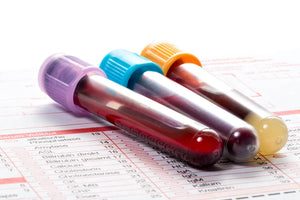 Testosterone (Blood Test) Total, Free and SHBG
Regular price $ 120.00 $ 79.99 Sale
Description: Testosterone, Total, MS is a blood test used to detect abnormal levels of testosterone in both male and female patients, and diagnose causes of erectile dysfunction, infertility, virilization, polycystic ovary syndrome, and delayed or early puberty in children.
Also Known As: Total Testosterone Test, Testosterone Total Test, Female Testosterone Test, Pediatric Testosterone Test, Ultrasensitive Testosterone Test, Uncapped Testosterone Test
Collection Method: Blood Draw
Specimen Type: Serum
Test Preparation: No preparation required
Description: Sex Hormone Binding Globulin test is a blood test that is often paired in testosterone testing for men suspected to have low testosterone and women with elevated testosterone.
Also Known As: SHBG Test, TeBG Test, Testosterone-Estrogen Binding Globulin Test
Collection Method: Blood Draw
Specimen Type: Serum
Test Preparation: No preparation required
When is a Sex Hormone Binding Globulin test ordered?
Sex Hormone Binding Globulin may be ordered by a healthcare provider to investigate infertility, diminished sex drive, and erectile dysfunction in males, or irregular cycles, infertility, and excess body and face hair in women, when total testosterone values do not appear to be consistent with the mentioned signs and symptoms.
What does a Sex Hormone Binding Globulin blood test check for?
SHBG is a liver-produced protein that strongly binds to the hormones testosterone, dihydrotestosterone, and estradiol. SHBG distributes these hormones in the blood as physiologically inactive versions when they are bound. This test examines the amount of SHBG in the blood and is most commonly used to determine whether a person has too much or too little testosterone.
In men, SHBG binds roughly 45 percent to 65 percent of testosterone in the blood, with the rest weakly and reversibly linked to albumin. Only around 2% to 3% of testosterone is accessible to tissues as free testosterone, but testosterone that is weakly linked to albumin is also bioavailable and can be rapidly absorbed by the body's tissues.
In women, a somewhat higher percentage of testosterone is bound to SHBG in the blood than in men. SHBG is important in controlling the quantities of bioavailable male sex hormones and estrogens circulating throughout the body in women. Because SHBG has a stronger affinity for the androgens testosterone and DHT, women with low SHBG may experience signs and symptoms of androgen excess.
A total testosterone test does not differentiate between bound and unbound testosterone; instead, it determines the total amount of testosterone present. In many circumstances, this is sufficient to determine if testosterone production is excessive or inadequate. However, if a person's SHBG level is abnormal, the total testosterone level may not accurately reflect the amount of testosterone available to the person's tissues. When a person's indications and symptoms do not match the results of a total testosterone test, a SHBG test may be conducted.